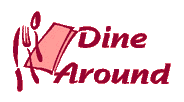 From Boston to Cape Cod, restaurants are one of Massachusetts's "not so secret treasures". Located in Sea Captain's homes, saltboxes and modern structures, some by the water, and others are nestled inland. Gourmet cuisine, fresh seafood, casual ambience and ethnic dishes, they all add up to a varied taste treat.
Here, at Dine Around, we invite you to sample our favorites. We have visited these restaurants over the past years, and offer these menus as a guide to enjoying Southeastern Massachusetts dining at its best year round.
Any comments, just email us at dine@capecod.net
---
---
© copyright 1994-1996 Restaurant Revue Shows.