The ferry unwinds its ropes from the dock as you begin to let go and relax on your 30 mile voyage to Nantucket, known as the Faraway Island. Far away from the stresses and toils of everyday life in a fast-paced world, you'll soon discover that Nantucket is not just an island... Nantucket is a beautiful way of life. History and the present exist in a harmony you will begin to feel as your ferry pulls into the harbor and you watch the sun beaming over this quiet hamlet of rose-covered cottages, restored church steeples, shops and 18th century architecture.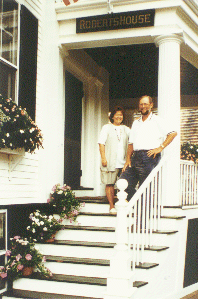 Stepping off the dock on to the support of an ancient cobblestone street for the first time sends a knowing chill through you... sensing you've been here before as you vow to come back to this peace again and again.
Nantucket Bed & Breakfast Inns is a family-owned and operated collection of inns, bed & breakfasts, and cottages on Nantucket Island - not your ordinary hotel, and certainly not a motel! Each guest room has been individually decorated and designed for guest comfort by the Innkeepers. Coffee or tea and muffins are provided each morning at the Roberts, Manor, Meeting, and Linden Houses and the Periwinkle Guest House & Cottage. Beach towels, bicycle racks and off-street parking are available at each location for our guests' convenience. Our staff is ready to provide extra thoughtful touches during your special Nantucket visit. Please let us know if we can, in some way, be of assistance. We wish to be there when needed - and disappear when not!
Your Hosts,

Sara & Michael O'Reilly, Innkeepers
Reservations: 1-800-872-6830
or email: RHInn@aol.com